3 Days 2 nights

Max People : 100

3 Days 2 Nights

Min Age : 2

Pickup: Airpot

Wifi Available
Description
Day 1: Balakot river side, kawai waterfall, malakndi river view, kaghan, Naran
Day 2: batakundi, jalkhad, besar, lulusar lake, gitidas, babusar top
Day 3: lake saiful malook. Saiful malook cave
Back to Islamabad
Services included
Luxury Transport
Quality Hotels
Delicious Food
Jeep Charges
Photography
Bonfire
Basic First Aid
Tour Guide Services
Call Now 03435853835
Services not Included
Company cannot and will not provide you following services. These expenses are not included in trip charges:
Trekking gears (Trekking stick, bag packs or rain coats)
• Serious medical condition is on your own as company will provide the basic first aid only.
• Entry Tickets/Fort Tickets/Boating/Rafting at your own.
• Porter Facility.
• Life Insurance.
• Anything that is not included in services included section.
Trip Charges
From Islamabad
People from other cities can join us from Islamabad
Discount can be availed on group booking
Departure and Arrival Point
Other Tours
 Please see the complete tour itinerary  below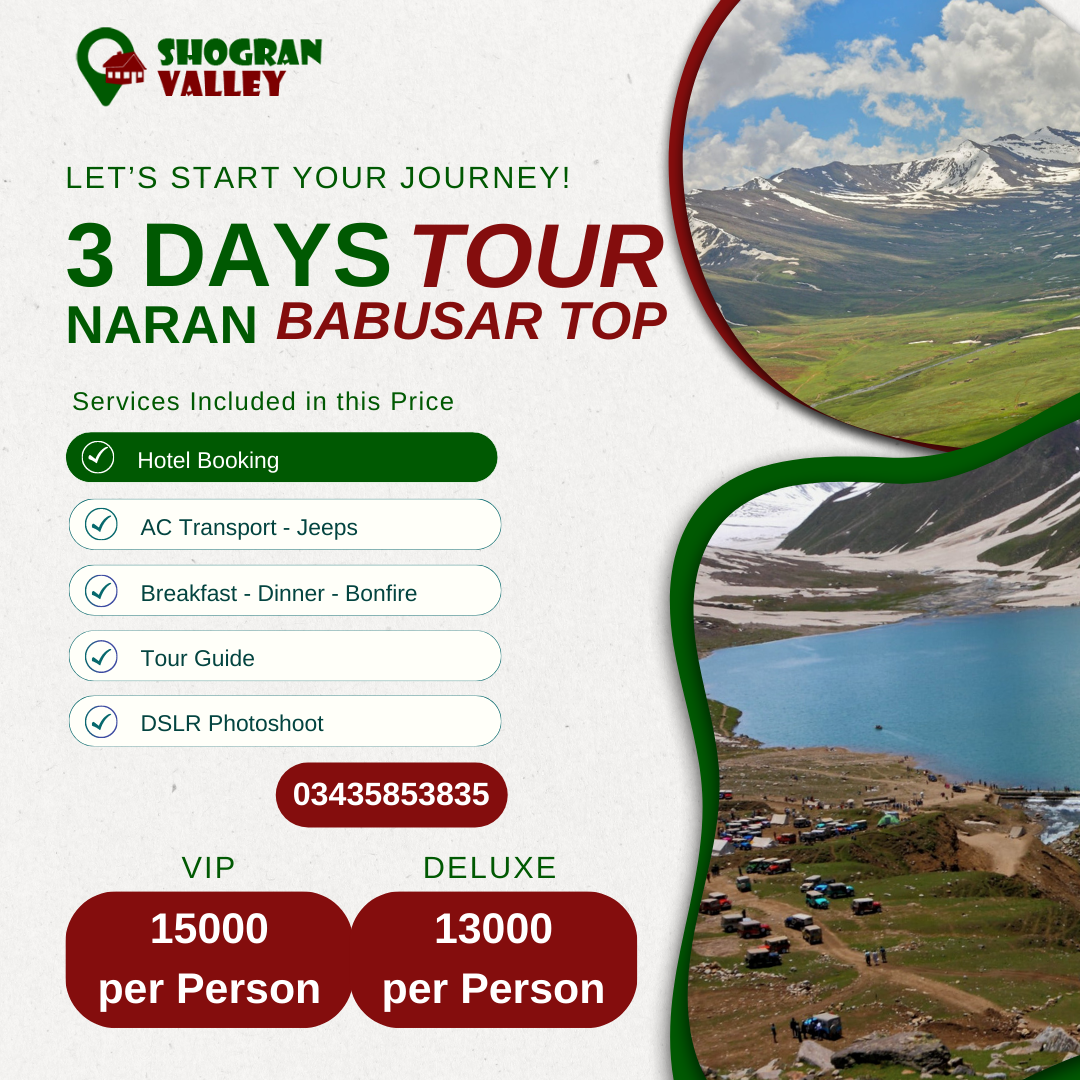 Itinerary
Start your journey early in the morning from Islamabad to Naran. Enjoy the scenic drive along the beautiful landscapes, passing through Balakot riverside and Kawai waterfall. Take a break at Malakandi river view and capture some stunning photographs. Continue your journey towards Kaghan, where you can enjoy the enchanting views of the Kaghan Valley. Arrive at Naran, a picturesque town located at an elevation of 8,202 feet. Check-in to your accommodation and relax for a while. Explore the local market and try some traditional cuisine for dinner. Overnight stay in Naran.
After breakfast, start your day by visiting Batakundi, a small village known for its scenic beauty. Proceed towards Jalkhad, a serene spot where you can enjoy the mesmerizing views of the surrounding mountains and valleys. Continue your journey to Besar, a beautiful village situated on the banks of the Kunhar River. Visit Lulusar Lake, a stunning glacial lake surrounded by snow-capped mountains. Proceed towards Gitidas, a picturesque location known for its captivating views. Finally, reach Babusar Top, the highest point of the Kaghan Valley, and witness breathtaking panoramic vistas. Enjoy the scenic beauty and take memorable photographs. Return to Naran in the evening. Spend the evening at leisure, exploring the local market or relaxing at your accommodation. Overnight stay in Naran.
After breakfast, embark on a thrilling jeep ride to Lake Saiful Malook. Enjoy the bumpy yet exciting ride through rugged terrains and picturesque landscapes. Arrive at Lake Saiful Malook, a legendary alpine lake known for its crystal-clear blue waters and captivating surroundings. Take a stroll around the lake, enjoy the serene atmosphere, and capture the scenic beauty. Visit Saiful Malook Cave, a small cave near the lake that adds to the mystique of the place. Spend some quality time at the lake, relaxing and immersing yourself in the tranquility of nature. In the afternoon, start your drive back to Islamabad, bidding farewell to the enchanting beauty of Naran and Babusar Top. Arrive in Islamabad in the evening, concluding your memorable three-day family tour.
Faq
Yes its a complete family tour and our tour guide will take care of it, So you can join our tour with family
yes, We have female tour guide as well so solo female can join us.
No, We will provide breakfast and dinner, But you can pay direct to the restaurant and have your lunch.
Why Book With Us?
Customer care available 24/7
Hand-picked Tours & Activities
No-hassle best price guarantee
Popular neighborhood